It's time for the first ever DDBN Forum Blog Train! This one is called Fairy Tale Wedding and it's extra special to me because it's themed after my wedding colors! It started as a suggestion for a kit and stemmed into a huge collab that evolved into a very unique blog train! There are a number of designers involved in this kit, some have been designing for awhile and others are new. This is going to be a HUGE kit when all is said and done.
One of the coolest things about this blog train is that it is happening MONTHLY and is open to ALL. Whether your a seasoned designer or just looking to dip your toes in, give it a try. You can read all about our
next blog train here
.
I have a lot of layouts done with different parts of this collab that I will be sharing over the next few days - but today I have some awesome Wedding Word art for you. Only a few things are colored to match the kit, so use them for all your wedding LO's!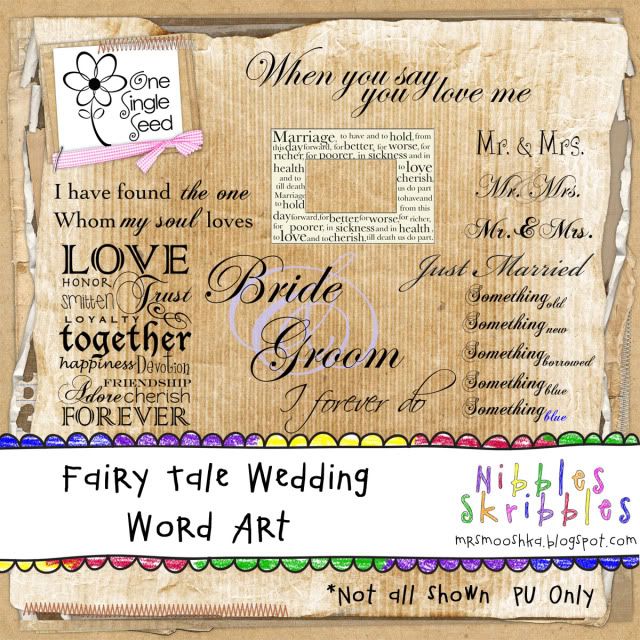 Here's the full train:
This month is a little funky since we all did different things. All of these designers will be posting pieces to their kit all week - different people have things coming out at different times. I promise, next time we'll be more organized - and hopefully bigger! The first post from each should be up by Monday morning sometime...but you know the drill we aren't neighbors so different time zones play a part in posting times!
Digi-Designs by Nicole
Scrappy Cocoa
Scraps of Ellay
Nibbles Skribbles
*You are here*
JW-DigiScraps
Flower Scraps
Christie Dawn
KayPey