But, on to good news -
First - there is a Speed Scrap this Saturday at Stuff to Scrap
and here's your PP
Next, one of my TT members, Eva, is having a CT call. She was recently invited to sell at Stuff to Scrap when the store opens this summer.
Finally - we are having a HUGE party at Stuff to Scrap for National Scrapbook Day next weekend...,more details to follow.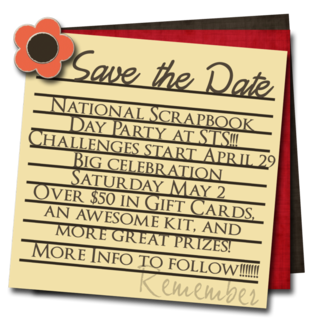 Stop by the
Stuff to Scrap forum
to let us know if you'll be at the Speed Scrap and to check out all of our monthly challenges- watch for updates this weekend about all the fun next week leading up to the big event on Saturday the 2nd!