I want
to play with! So, I created a document to help me keep track!
I actually created two spreadsheets - a Layout Planning (for lack of a better name) and a Challenge Tracker - I will attempt to explain my logic behind the columns here.
The Layout Planner
one has the following columns:
Date Due, Designer, Kit Name, LO
(to check when a LO is done)
G1, G2, G3
(typically for CT's there are 2-3 galleries that need to be posted to I can note which ones and when they are done here),
Blog
(if I am posting about it on my blog I can check off here when I am done) and
QP
(some designers like you to do a QP or sometimes I just decide to do one - this column helps me remember that fact!)
I also created a
challenge tracker
- there are so many great challenges out there and I don't want to forget one that I want to do. The columns here are:
Date Due, Forum, Challenge, LO
(to check when the LO is done)
, Posted?
(sometimes I finish a LO for a challenge with a kit that hasn't been released, so I may have to wait to post it) and
Kit Used
(for credits/reminder what LO I did for the challenge!).
Personally, I print the spreadsheet and write in as things come up - then it's always right in front of me without having to have another program open, but it could be customized further and used digitally and I figured, since I put in the work of creating these I might as well share. In the zip file you will find both spreadsheets in excel and PDF formats. If you don't have excel, you can use google documents to read the file and make any changes you might want.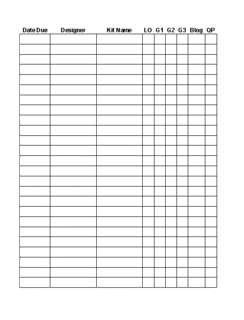 Hopefully some of you find this useful! Please let me know if you download this - I would love to hear if it works for you and/or any additions or changes you made that you found helpful - they might help me too!

**Freebie Expired**